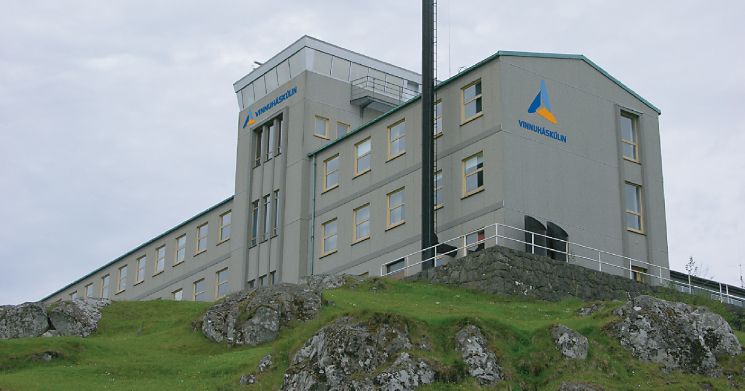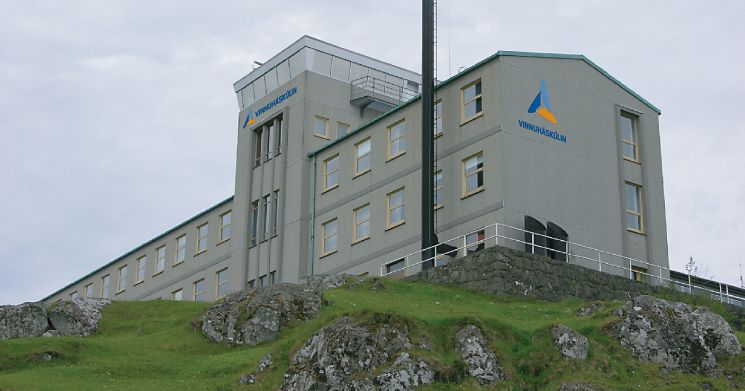 Skippers Jens Mohr and Jens í Dali were the first to establish nautical institutions in the Faroe Islands. Their respective schools were established 1. November 1893, and several other teachers also began offering nautical instruction in the years immediately following: Dánjal í Ungagarði in Porkeri (1896); Hans Djurholm in Glyvrum (1903); Jákup and Jógvan Joensen in Tórshavn (1904). It wasn't until 1. November 1905, however, that students were able to attend classes in a building specifically designed to accommodate their program of study. This new nautical school was built in Tórshavn by Viggo Ryving-Jensen and Andrias Nielsen, Danes who also later taught there. Today the former school building houses Tórshavn Shipyard's offices.
Throughout the early 20th century, all of the Faroe Islands' nautical schools were privately funded; some closed rather suddenly while others were able to continue despite a marked lack of resources. Classes always began on the first of November and lasted until late February, and tuition was divided into monthly instalments of 20 DKK.
According to the law in effect at that time, examinations were to be oral and three officers who served aboard Danish inspection vessels determined whether or not a student earned his certificate. This system fell out of practice in 1919, when the examining officers were replaced by a committee; the final examinations were also divided into oral and written parts.
In 1925 Faroese fishing vessels began fishing off the coast of Greenland, but this was a dangerous undertaking and Faroese skippers did not possess sufficient training. For this reason, the Faroese Parliament requested that the Danish government provide opportunities for supplementary education. This led to the establishment of a navigational school in 1927; it was located within the building originally constructed by Ryving-Jensen and Nielsen. The navigational school offered a variety of programs which gave a new generation of Faroese fishermen the skills and certification necessary to fish in Greenlandic waters.
In 1929 an engineering program was implemented and given its own department within the navigational school. Unfortunately, this caused considerable crowding and the dean was left with little choice but to turn away many qualified applicants.

In 1947, after working as a navigational instructor in Denmark for 20 years, Fischer Heinesen decided to return to the Faroe Islands. He began teaching evening classes at the municipal school in Klaksvík that autumn; by winter of the following year, both skippers and mates attended his classes. Heinesen's technical knowledge was especially useful as he was able to teach his students about the latest technological advancements in nautical studies (i.e. how to use a radiotelephone). The navigational school in Klaksvík secured its own premises in 1971 and remained in private hands until 1975. In addition to teaching skippers and cooks, the school also offered courses for navigators and radio officers.
In the fall of 1962, the Faroese Nautical School in Tórshavn offered the Faroes' first Master of Navigation program; the school's first graduating class of master students had their degrees conferred upon them in the spring of 1963. In order to qualify for admission to the master's program, applicants first had to obtain certification as first mates. The duration of the master's program was approximately six months though course material was gradually added to the curriculum; the Master of Navigation program was extended to last an entire year in 1973, and a 1986 amendment integrated the first mates' certification into the Master of Navigation program thereby creating a 3 year program of study.
The Skipper and Master of Navigation programs were nevertheless kept separate until 1992; the former program was intended for skippers aboard fishing vessels while the latter was meant for officers aboard transport ships and cruise liners. In 2005 a semester-block system was implemented, and the two programs were organized into yet another new system; now students who intend to pursue a Master of Navigation degree must first successfully complete the skipper program.
The Faroese Nautical School moved to its present location in 1962. In 1997 an extensive renovation project was initiated, and this was not completed until the fall of 2000. In April 2004, the Faroese Minister of Education publically proposed consolidating the Faroes' engineering and nautical institutions, and this eventually came to pass; the institutions were officially merged on New Year's Eve 2005 though the merger did not take effect until after summer vacation that year.
..
Argir, 7. september 2005
Óli Olsen